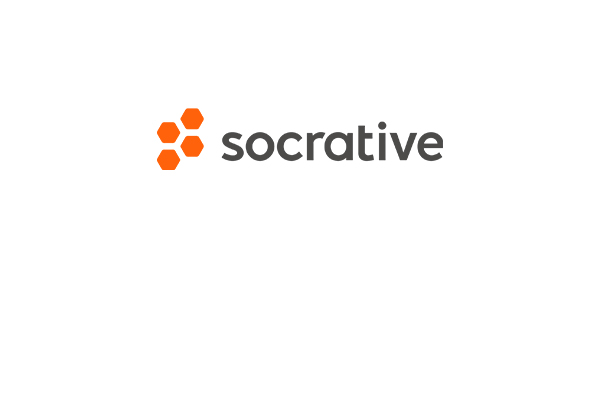 Title of the resource/tool

SOCRATIVE

Language of the resource

English (US)

,

Dansk, German, English (UK), Spanish, Spanish – Mexico, Suomi, French,

한국어

, Netherlands, Normandy, Svenska,

ไทย

,

简体中文

, Polskie, Italia

Type of the resource/tool

Software/tool

App

Website

Field of application

Collaborative learning online 

Creation of tests, quizzes

Virtual feedback 

Virtual assessment 

Data storage and sharing

Methodology of using the resource/ tool

Socrative is an assessment tool that gives immediate feedback for the classroom. It allows teachers to connect with students as learning happens, by providing fun and effective tools to gauge student understanding in real time. This enables teachers to modify their instruction to drive student learning most effectively.

With this tool teachers can create quizzes, surveys, team activities and content, and share them with other teachers.

Once you have signed up, you will get a room name: this is the code that you will need to give to your students. 

You can import quizzes, create quizzes and launch quizzes.

When you launch a quiz, you can choose if you want instant feedback for students (question by question), if you want to pace the answers or if you want to open navigation (students can get all the feedback at the end). 

Students must log in (only name and code, there is no need to register) , using your Classroom code, to start their activity. Teachers can show the answers by hiding the students names or the correct answers, if they want. Finally, they can get a report and download it.

To create a quizz you can choose between multiple choice, true/false and short answers. You can add pictures, and provide feedback and more information to the students, for every question.

Take notice that for short answers, you will have to write the correct one in all his versions: capital letters, small letters and their different combinations. 

Main functionalities 

Promote class participation by integrating technology in the classroom: tablets, smartphones, laptops, etc.

Evaluate students automatically, being able to access their answers quickly.

Know the opinions of students by conducting surveys on activities, tasks or jobs.

Link to the resource/tool

https://www.socrative.com

Resource/tool operating mode

Need software installation

Web-based

Operating sytems

Windows

Mac

iPhone y iPad

Android

Google Chrome

Mozilla Firefox

Internet Explorer

Responsive design

Desktop

Tablet

Mobile

Resource/tool can be used for 

Synchronous learning

Asynchronous learning

Access to the resoursces/tool for the user

Login needed

Privacy and security politics

https://www.socrative.com/privacy/
Pricing

Partially paid (for more features)

SOCRATIVE has 3 versions:

-FREE (Up to 5 quizzes, 1 public room, launch 1 activity at a time, 50 students per room).

-PAID: More functionalities. Socrative PRO for K-12 and Socrative Pro for Higher Ed.
Competencies improved using this tool
PROFESSIONAL ENGAGEMENT
 Professional collaboration
TEACHING AND LEARNING
ASSESSMENT
 

Assessment strategies

Feedback and planning
EMPOWERING LEARNERS
Actively engaging learners
FACILITATING LEARNERS' DIGITAL COMPETENCE
 Digital communication & collaboration

 Digital content creation
Soft skills for digital tutors